Review
tl;dr For an erotic romance novel, I expected a lot more sex, a lot earlier on in the book. But, it was a fun story and had me laughing at times, and I really actually enjoyed the way the romance played out.
Description So, Caroline moves into this fabulous apartment in San Fran that she's subletting from her boss. And on her first night in that apartment, in the middle of the night, she hears some loud, wall banging, knock the picture frames off your wall sex. And then, it happens again the next night. And the next.... Finally, sleep deprived and sexually frustrated (she has gone without orgasm for months and months, the poor girl), she confronts her neighbor during another particularly loud night, forgetting she was wearing a teeny tiny nighty. Soon it seems like Caroline and her studly neighbor are being thrown together at every turn, but what does that mean for Caroline, when she's sworn to hate her hottie neighbor that seems to have a constant rotation of women through his bedroom?
Oh. Em. Gee. Let me start with the negative, because there wasn't much that I didn't like about this book. As a romance novel, I expect sex scenes at every turn. Trust me, I've read my fair bit of smut. The only reason I pick up romance novels is for the smut. I don't really care about the story, I just care about the sex scenes.
So imagine my surprise, when the sex scenes - the ones you would expect in a romance novel - don't come until 80% of the way through the book. So that was a bit of a letdown. But really, that was the only letdown. The only other thing that bugged me was the way she talked about her lady parts and the illusive O. I mean, we get it. You haven't had sex in ages, and even when taking care of yourself, you can't reach orgasm. Ok. It sucks, I completely understand that, but it does feel like its constantly brought up over, and over, and over again. To the point that it is far too repetitive.
Besides that, I loved the book. I loved the characters. Caroline was hilarious, and I really related to her. She was spunky and confident, a hard worker who knows what she wants, and isn't about to take shit from anyone - especially her extremely sexually active next door neighbor. And oh boy, her neighbor
Yes sir, sexy neighbor Simon! Even though it wasn't the typical romance novel I am used to, I still loved how it panned out. I loved the way things happened between Simon and Caroline. Their frustration with each other at first - Caroline's because she isn't getting any sleep (or relief), and Simon's because Caroline is being a controlling crazy person trying to make him change his lifestyle. Then, when they realized that they knew people in common, I liked their truce and how their friendship grew. It was awesome, adorable, wonderful.
It was a great love story. Really well done, really funny. I was actually laughing out loud at some parts, and smiling through the rest of it! I feel like it would make a great movie someday too. OH! And Clive! Ridiculous and hilarious cat. I love her relationship with her cat (maybe because I have a similar one with my cat Hermione. IDK). Just - awesome.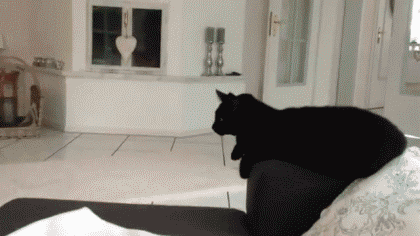 But yeah. Loved this book 9/10 would read again.