Review

tl;dr I loved this one. Definitely one of the best in the series!!
Description There's a super hot new math teacher at Kaylee's school, but after a strange occurrence with one of the girls in her math class, Kaylee is weary of this new teacher. Then she learns the borrowed time she's living on is almost up - in just a few short days. So instead of wallowing, she decides to investigate into what happened with her classmate, and whats up with her too hot new teacher, all while trying to help her friends and family come to terms with her impending death - and make sure they don't do anything stupid. What WILL happen next!?
So oh my goodness. I loved this book. I thought it was awesome. One of the strongest story lines in the series, by far. Her hot new math teacher is an incubus (i didn't spoil anything - go read the description on goodreads.),the male version of a succubus, and he is feeding off teenage girls' lust.
Oh boy if that teacher looks anything like mr ledger up there, then those teenagers don't stand a chance. Except that they've got Kaylee on their side! Luckily, as a banshee, Kaylee doesn't seem to be susceptible to an incubus' wiles. Which is good considering everyone else is hypnotized by him, including Emma. Oh, Emma! That poor girl gets dragged into everything.
I really liked the way Kaylee handled the news of her death too. I mean, she easily could have curled up in a ball and cried for her remaining time, or gone on some crazed bucket list quest. But she didn't. She wanted to make sure her friends and classmates were safe from the incubus before she died. And thats pretty damn awesome.
And can I just - Kaylee deciding to have sex so she doesn't die a virgin, and Todd interrupting them at just the right moment. I was both like
and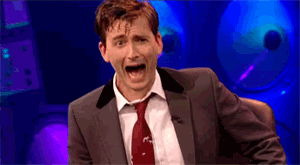 at the same time. So good. So freaking good. But there shall be no more spoilers from me! So if you've read the book, just know I loved it all. LOVED IT ALL! The part in the parking lot with Nash (while awful, still loved it). The thing in the hallway after coming back from the Netherworld.
LOVED IT. All of it. I just loved. It. All.
READ IT!!