Review
tl;dr Overall I really liked the end to this series. I'm quite sad that its over, but it ended quite well.
Description Turns out Kaylee's school is voted the most dangerous school of its size in America. So, you know, thats not so cool - especially since its because of all the hellion activities. So Kaylee decides its time to clean up the school and try and keep her classmates safe once and for all. She comes up with a plan to turn the hellions of greed, vanity, and envy against each other. But then she meets the hellion of Wrath, and learns a thing or two - for a cost. When someone she loves is taken, she decides its time to get serious and finish this once and for all.
So the end of this series. I just -- no words. I thought the introduction of the hellion of Wrath was really interesting, and I actually really liked his character. He was kind of awesome, for an evil hellion.
Again, Kaylee and Todd I just -
I can't get over them. I just love them so much. Also, LOL at Kaylee for thinking she could seriously get her plan to turn the three hellions against each other. Seriously Kaylee, you should know by now its not gonna be that easy.
And can we just talk about Emma for a minute? Oh so sad. Like seriously, I feel so bad for her. She gets so much crap happening to her throughout this series, and she just keeps trucking on. Even when she dies then her soul is placed in another person's body, and has to deal with that in her senior year of high school - Emma is the unsung hero of these books. She's amazing, and strong, and we could probably have a few books from purely her PoV because she's obviously amazing enough to go through everything she has, and still love Kaylee.
Then the end. THE END! OH MY GAWD. I did not expect that to happen. I mean, you get that Kaylee is about to do something incredibly self-sacrificing, but you aren't completely sure what. And how its gonna work out. And then she does it. And you're just like
How does she get out of this? THIS CANT BE REAL! THERE MUST BE MORE! WHAT HAPPENS NEXT??? And it was wonderful. I loved it. I really really did. It was all just perfect. Though, the very very end - the last couple of pages - almost felt a little off/rushed I guess. But I won't get into that because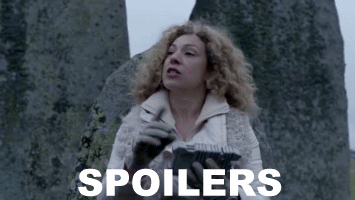 So read it. And cry. And love it.